It is well known that promotional products are effective when it comes to marketing your business. They are great for making new connections, showing appreciation to your established customers, and for building awareness of your brand. A promotional product can be anything from a branded pen to BBQ utensils – it is something that allows people to see your brand. A good promotional product should be useful, have high quality, and last for a long time. It is also important to present the product well – a unique packaging can be almost as important as the product itself.
What makes a good promotional product depends on the company and its customers. The most effective product for one company might be less effective for another. However, there are some products that are very popular and appreciated by most people:
Technology related giveaways:
 Technology related products are some of the most popular and requested promotional items. This is because they are actually useful and relevant for everyone. There is a wide range of tech products, and there are products for many different purposes. Some examples are a Power Bank, Bluetooth speaker, Headphones, 4 Port USB Hub, Car Phone Holder and a LED watch. You just have to decide what you think would suit your customers.
Branded pens: 
Pens are one of the most basic, yet effective, promotional products. They are a giveaway that will always be useful, whether it is placed on the front desk for customers or used by employees around the workplace. Pens can come in many different variations, both appearance and colours.
Company apparel:
Putting your brand on apparel is often a good move. It can be anything from a singlet to a beanie or a sports jacket. The clothes can be worn by both employees and customers, and they can promote the company wherever they go. Some people might wear your t-shirt to the gym, some when they go out for a walk. No matter where they are, it will raise awareness of the company as people will see the logo on the apparel. If you provide free clothing on a trade show, you will notice how many people will come to your booth.
Drinkware:
It's important to stay hydrated. Drinkware is always appreciated, whether it's a custom water bottle, a thermal mug or a coffee set. As we have realized the environmental repercussions of throwaway plastic we should all strive to use less plastic, and many organizations are begging to ban single-use plastic. What could be better than giving your customers a reusable and recyclable water bottle, to show the customers that the company cares about the environment?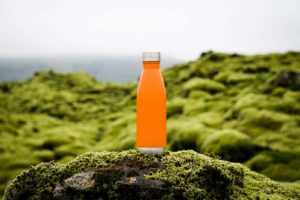 What to think about when giving away a promotional product
It's good if the giveaways are not always about business, it can sometimes be a good idea to come up with something unexpected and funny, just to leave an impression and stand out. It can be anything from funny socks to a talking pen. Whatever you think your customers would appreciate.
It's important to have promotional items that your employees like. If they like the products, they are usually more than happy to give them away and spread the word about the company. It is so much more successful when a promotional product is given away genuinely and enthusiastically.
Promote It has an enormous range of high-quality promotion items. If you're already interested in producing a specific promotional item, then take a look at our products. If you can't find the particular item that you're looking for, or if you're unsure what items are ideal for your company, get in touch with the experts at Promote It today.